Make a difference in your team with Zelos.
Don't let team coordination overwhelm you.
Take back control, so you can focus on the things that really matter.
Let's get started
Lead and coordinate
Reduce the divide between coordinators and team members to get more done.
Be adaptable
See the bigger picture and be able to handle both big and small issues.
Empower Volunteers
Motivate your team and make them feel like they can make an impact.
Here's how it works
For Organizers
Build a cohesive team.
Zelos reduces the stress and confusion for everyone. It is easy to communicate tasks and training to your team members.
Grab your favorite device and coordinate your whole team live.
Only the relevant people will be notified, only the relevant people will respond.
1. Get Organized
Stay organized and in control. Zelos offers seamless integration between volunteers and their coordinators.
Assign tasks, check their completion, and get important messages in front of the right people.
Task management
Break down the whole process into bite-sized, actionable tasks. One bite for one volunteer. When they all add up, you will witness the true power of crowdsourcing.
Set your goals
Planning a result for each task makes it easy to distinguish what's completed and what's still in the works
Observe things getting done
Get details and timestamps on who started a task, and when did they report it complete.
2. Take action
Make sure everyone has a part to play and things get done. Identify teams and individuals based on skills, interest or availability. Then match them with the right tasks!

You can easily create and assign tasks as you plan them. Zelos gives you the adaptability to solve problems as they emerge, right then and there.
Groups
Sort people into groups based on skills, location, or availability. They can also join and leave groups by themselves, should you allow this.
Tasks
Assign tasks to the right groups, and get notified when the group members have finished working!
Confirmations
Request photos, text or a personal check-in to be sure everything is done the way you requested.
3. Engage and educate
Make sure everyone receives proper training, and all the relevant information the moment it becomes necessary.
Announcements
Share important updates instantly to the whole team. Push notifications or emails, the volunteers will choose their favourite channel.
Gather data and ask for feedback
Post a task with a goal to write something, and you have a quick survey! Get suggestions for naming a pet, or feedback on an event.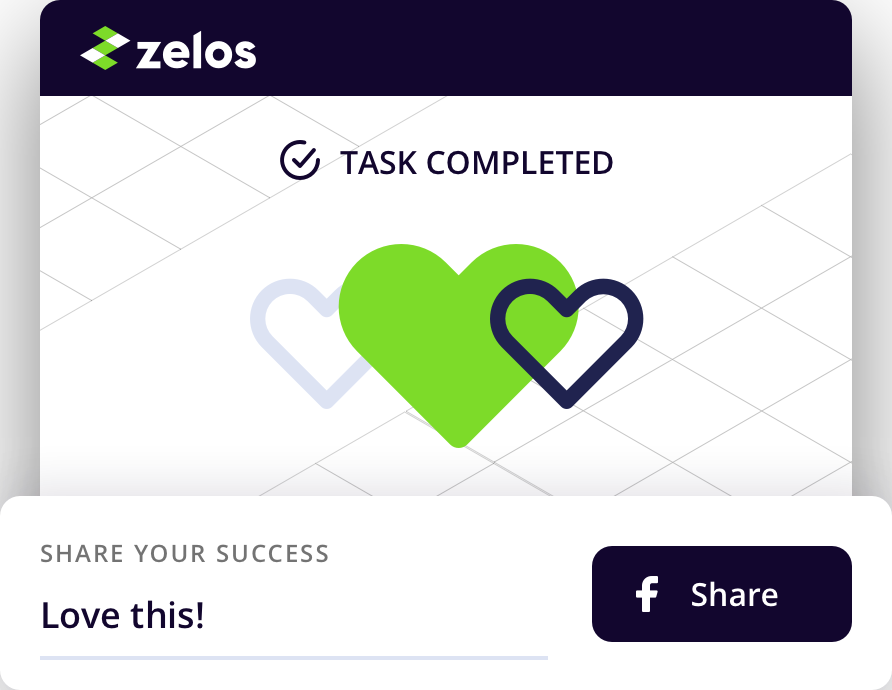 For team members
Gain meaningful experiences
Zelos removes confusion from the work experience so you can really focus on making an impact.
You get direct reminders about information that is relevant to you, and you only.
1. Show up
Know exactly when, where, why, and what you're needed for without all the extra noise.

Public task management makes it easy to see where you can allocate your efforts. See that things are getting done, and offer to help with things that are not progressing. 
Relevant information only
Zelos only shows you tasks that are relevant to you. You won't be overwhelmed with information about other departments or locations.
Task pickup
You can easily see what tasks still need to be done, and how exactly you can help.
Alerts
Receive alerts or emails about new tasks as the coordinators post them.
2. Get right to work
Spend less time figuring out what you should be doing and more time doing it.

Once you have work handled, you can report back on task completion using a variety of confirmation options that take away the feeling of being micromanaged.
Manager confirmation
Completed tasks send a notification to the manager for manual approval.
Image and text confirmation
Submit images or a text snippet to announce that the task has been completed.
Auto-confirmation
Tasks on external services (such as Share to Facebook) get automatically verified after completion.
3. Tell your friends
Easily share information about events and opportunities with your networks.
Take advantage of special discounts to share with friends and family and get everyone involved.
Facebook
Easily share information about your favorite causes on Facebook and generate awareness among your friends.
Discount
Receive discount codes for events and special offers to use for yourself and others!